(KGTV) — From the Millennium Falcon to building your own lightsaber to guzzling down blue or green milk, there are plenty of moments fans at Disneyland's "Star Wars: Galaxy's Edge" land will enjoy.
Both young and old fans will undoubtedly leave with a sense that their Star Wars fandom has been satisfied whether they consider themselves a casual or diehard fan.
10News' digital team took an early sneak peek at all the action to be had on Batuu's Black Spire Outpost, but only a handful of moments ranked as our favorites. Here's how "Galaxy's Edge" made the trip to Batuu worth it:
MORE 'GALAXY'S EDGE':
What to know | Park Map | Food | Merchandise
Millennium Falcon: Smuggler's Run | Oga's Cantina
Park Video Walkthrough | Retail Shops | Restaurants
Budgeting Your Time | What's to Come | Film Timeline
Allison's first impression:

San Diegans weren't alone when they groaned at the sight of Luke Skywalker's blue milk when Rey found him on an isolated island.
As a big Star Wars fan, I was curious to try this new offering at Star Wars: Galaxy's Edge. It turned out to be a highlight of my visit to Disneyland's new "planet." The blue milk is delicious — earning a unanimous thumbs up from the 10News digital team.
Batuu is designed to feel like an entirely new planet in the Star Wars universe, with parts of the 1970s and most recent films featured in the land. I wasn't expecting to see many original characters but I was delighted to run across R2D2 in Droid Depot. Devoted fans can purchase the life-size droid; those who don't want to devote the cash can enjoy interacting with it.
Make sure you have a few good questions to ask to prompt R2D2's classic responses.
Jermaine's first impression: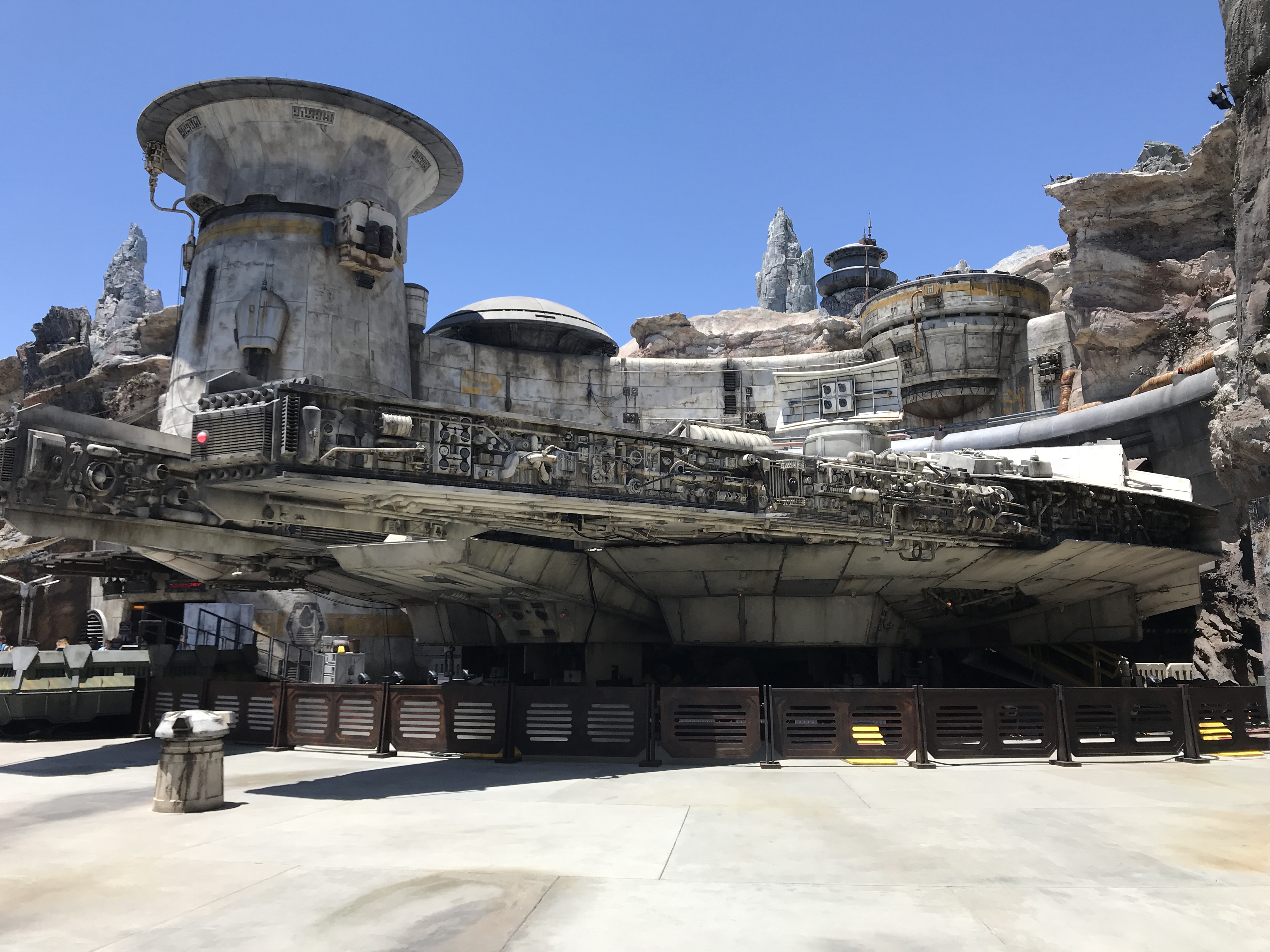 The Millennium Falcon at "Star Wars: Galaxy's Edge" is definitely not an old piece of junk.
The one thing I needed to see on my visit to Galaxy's Edge was the Falcon. When Disney first announced Han Solo's famed ship would be a major part of the new Star Wars-themed land, I honestly geeked out. It was always a dream of mine as a kid to be in the presence of the scoundrel's ship.
When I stepped foot in Galaxy's Edge and made my way to the center of the land, I was not disappointed. The life-like Millennium Falcon was a sight to behold, and I was in complete awe at what was parked in front of me.
At first glance, you can tell right away that Disney's Imagineers took great care when putting the ship together. Fans will surely be impressed with the attention to detail involved. For me, it was really cool to see such little things as the stickers on the ship's exterior and the blaster marks that gave the Falcon its battle-tested look.
While the "Smuggler's Run" ride is what will likely have the longest lines and have people talking, for me, seeing the Fastest Hunk of Junk in the Galaxy was more than enough to fulfill my Galaxy's Edge experience -- even if I wasn't able to stow myself away inside.
Mark's first impression:

When you walk into "Star Wars: Galaxy's Edge," you can't help but feel overcome with a sense of nostalgia. You feel as though you've been here, though know you never have.
That is until you board the Millennium Falcon for the "Smuggler's Run" attraction. It's then that you feel almost at home. You navigate through rough hallways before reaching the hull of the famed ship, where you can sit down at the infamous Dejarik (chess) scene, get the Falcon under control at the press of a big red button, or simply let your eyes wander.
The ride itself is amazing, especially if you're a pilot. Pilots are front and center as they control the ship's movement, from turning to shooting into hyperspace. And depending on their skill, engineers will either have a reasonably comfortable role or have to put out all sorts of fires. And gunners, while a simple task, will have a blast (pun intended) keeping the First Order off their tail.
As for the land, my highlight is Dok-Ondar's Den of Antiquities. As you step into the shop, you can't help but stop and spin to see everything lining the walls from the ground up. While much of it is simply props and not for sale, there's plenty for purchase to gander at, from a $2,000 Princess Leia necklace to something more modest like a Jedi starter pack. In the corner, next to heads of ferocious creatures on display, an animatronic Dok-Ondar is hard at work organizing his inventory.
It's the store itself — the real star here — that solidifies the feeling that you're far, far from Earth.