(KGTV) — Disneyland is getting ready to unveil its 14-acre "Star Wars: Galaxy's Edge" expansion by releasing a guide for guests to begin planning their trip to Batuu.
So that guests can get the most out of their visit, a map showing where all the sights and sounds, rides, and smells of the Black Spire Outpost can be enjoyed.
Upon walking through the southern entrance, guests will find themselves facing a marketplace of "Star Wars" goodness, from the Droid Depot to First Order Cargo to Savi's Workshop, as well as a host of delicious food stops.
MORE 'GALAXY'S EDGE':
What to know | Park Map | Food | Merchandise
Millennium Falcon: Smuggler's Run | Oga's Cantina
Park Video Walkthrough | Retail Shops | Restaurants
Budgeting Your Time | What's to Come | Film Timeline
There are three different entrances for parkgoers to travel through.
Venture further inside due north, and guests will come face-to-face with the Millennium Falcon and the "Millennial Falcon: Smuggler's Run" attraction.
Head southwest, and more food and shopping options line the marketplace, including the Toydarian Toymaker, Creature Stall, and Ronto Roasters.
Further southwest and guests will find a Resistance Outpost carved out of the mountainside, complete with life-size X-wing and A-wing ships. There, the upcoming "Rise of the Resistance" attraction will open later this year.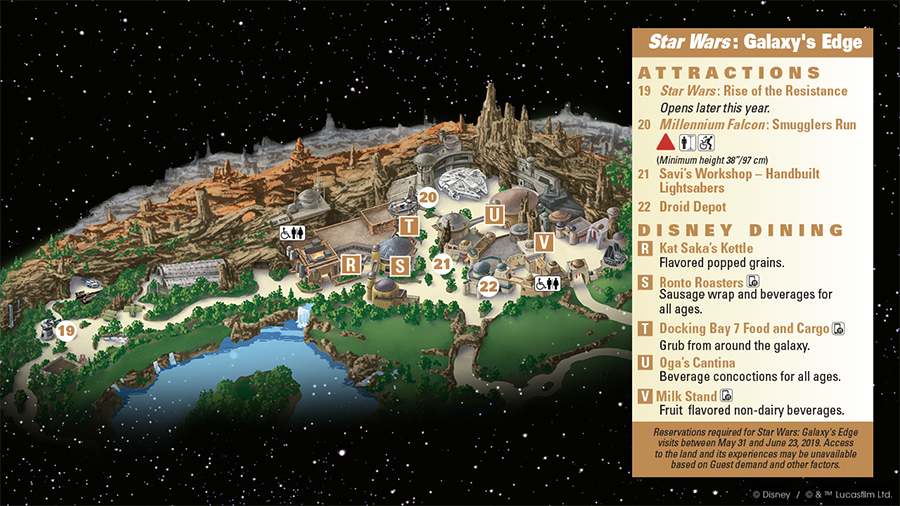 "Galaxy's Edge," the ninth themed land at Disneyland, is set to open to the public on May 31.