(KGTV) — California public health officials announced loosened restrictions on outdoor sports on Friday in counties that meet specific case rate criteria.
Under the new guidance, all outdoor sports, including high- and moderate-contact sports, can resume once a county reaches a COVID-19 case rate at or below 14 people per 100,000.
Currently, there are 19 counties in the state that meet the threshold to resume outdoor sports. As of Friday, San Diego County is at 22.2 cases per 100,000 people.
If a county is able to restart competition for high- and moderate-contact sports under the new guidance, it will not be required to cease outdoor sports if its case rate exceeds the 14 per 100,000 threshold.
California's new guidance on outdoor sports goes into effect on Feb. 26. Face coverings will still be required during practice, conditioning, and during competition, according to the state.
Gov. Gavin Newsom announced the guidance during a press conference Friday, crediting the help of advocates like the Let Them Play CA group to help develop the guidelines.
"We've been looking at the data, looking at the science, looking at best practices all across the country," Newsom said Friday in Alameda County. "We are now confident with new guidelines that we are publishing today that we can get youth sports moving again in the state of California ... with, as always, caveats."
Those caveats include several requirements for high-contact sports:
The new guidance requires weekly testing of coaches and players 13 years old and above in football, rugby, and water polo, with test results being available within 24 hours of play. Football, rugby, and water polo are likely to be played with face coverings with close contact.
The new guidance doesn't require players outside of football, rugby, and water polo to be tested if the majority of a team is under 13, as "evidence shows that younger children do not seem to be major sources of transmission—either to each other or to adults," the state said. Coaches in this situation would still be required to be tested.
Outdoor moderate-contact sports like baseball, cheerleading, and softball can be played without a testing requirement in eligible counties.
California's guidance also strongly recommends safeguards to "the greatest extent possible," including:
Face coverings during play;
Physical distancing during play;
Testing – antigen or PCR;
Hygiene and sanitation protocols;
Limitations on mixing by participants; and
Travel considerations
More information on the state's guidance can be found online here.
"Youth sports are important to our children's physical and mental health, and our public health approach has worked to balance those benefits against COVID-19 risks," said Dr. Tomás Aragón, CDPH Director and State Public Health Officer. "With case rates and hospitalizations declining across California, we are allowing outdoor competition to resume, with modifications and steps to reduce risk, in counties where case rates are lower."
For counties that do not meet the threshold to reopen all sports, California's reopening guidance allows the following activities to resume based on a county's tier assignment: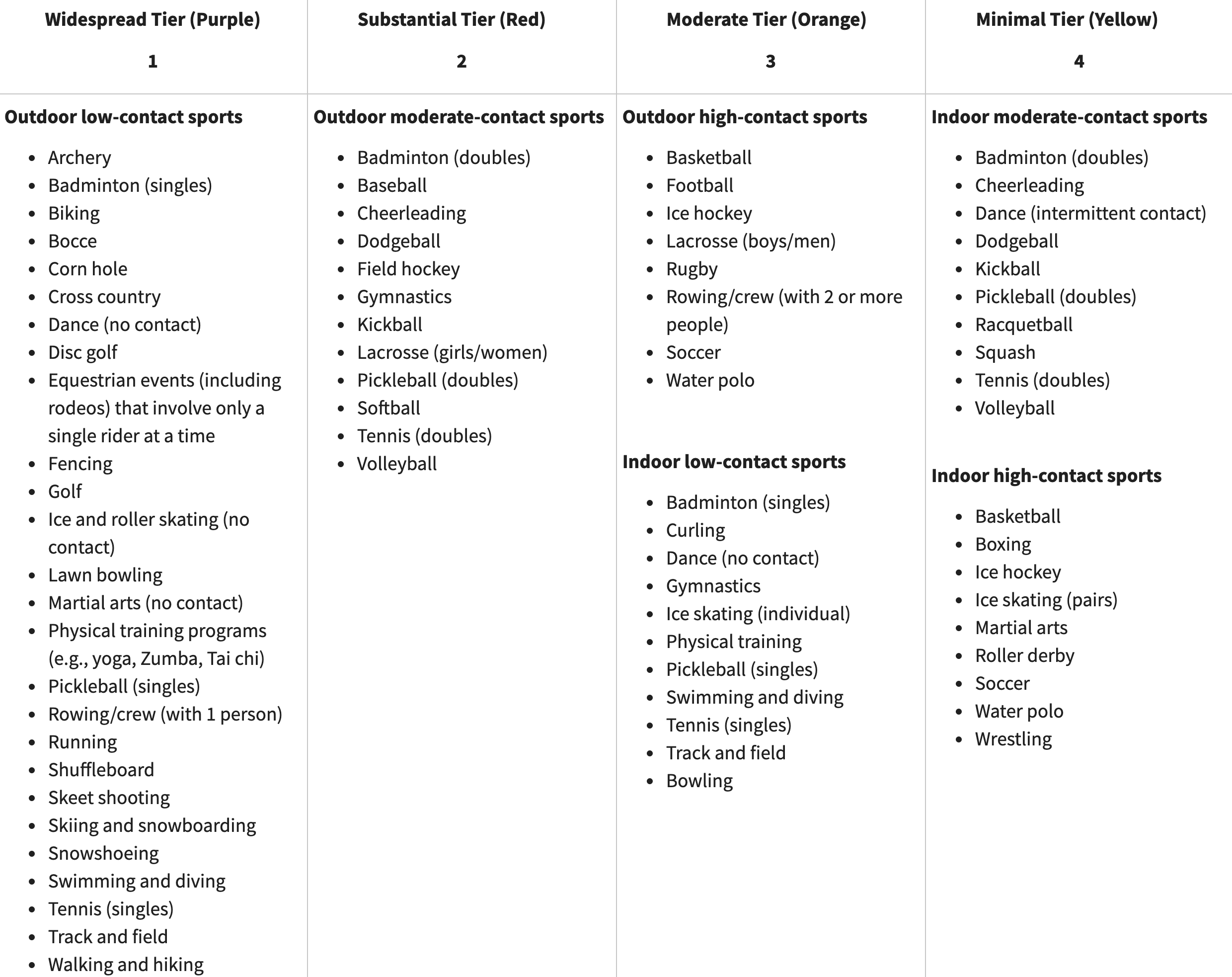 In addition to the case rate criteria, California's guidance bans anyone from attending practices or competitions if they are exhibiting COVID-19 symptoms or are in isolation/quarantine for COVID-19.
In a joint statement, Golden State High School Football Coaches and Let Them Play CA thanked lawmakers and advocates who pushed for the return of youth sports:
"To our athletes: there is a beautiful lesson in this effort for all of you. When something matters to you and it is important, no matter the odds, no matter if you win or lose, you try. The simple act of trying can set events in motion that motivate, guide, and teach you how to struggle for something that matters. We tried for you in this case for a very simple reason: we love you, and we believe in you."
San Diego County Board of Supervisors chair Nathan Fletcher applauded lawmakers and Torrey Pines High School Ron Gladnick, who was a part of the Golden State High School Football Coaches:
"We have seen considerable progress on vaccines and lower cases, and this is a positive step forward in our recovery. I applaud Governor Newsom, and commend Ron Gladnick who has been a great partner in working with my office, the Governor and our public health experts to see progress in the effort to let our kids play."
Friday's announcement came ahead of a San Diego Superior Court judge's ruling Friday to grant a temporary restraining order that allows high school sports to resume under the same protocols as professional or collegiate sports in the county.
"While there are obvious differences in size and age, the Court focuses on the similarities of the risks of the game (related to COVID) and the risks to the community. Respondents argue that because there are fewer professional and collegiate teams, the risks to the community are lower in allowing them to play sports. Were this the test, the government could single out any group for preferential treatment. This argument is unpersuasive. Respondents also argue, alleging common sense, that older athletes are more mature. This Court is not persuaded that is accurate, and in any event, no persuasive evidence was presented to support this contention," court documents said.
Attorneys from California, San Diego County, and those representing Nicholas Gardinera, a senior at Scripps Ranch High School, and Cameron Woolsey, a senior at Mission Hills High School, argued before the court Friday afternoon.
The ruling allows, "Petitioners or other youth in the County to participate in high school or youth sports as long as they follow the same or similar COVID-19 protocols imposed for competition in professional and/or collegiate sports within the County."
"Youth being similarly situated, or even less likely to contract COVID, the analysis then turns to whether there was a rational basis to distinguish between professional, college and youth sports. This Court finds, based upon the evidence submitted for this hearing, that there is not. The Game is the same, the risk of spread is similar, the youth are already practicing, and with School closures or limitations on attendance, youth are isolated," the court said in its ruling.
An order challenging the injunction will be heard on March 5.