SAN DIEGO (KGTV) — San Diego County public health officials said Friday that the region is dangerously close to being placed in the state's most restrictive reopening tier.
The county's coronavirus case rate over the last 48 hours was alarming, according to Supervisor Nathan Fletcher.
"We've been living for most of the last month on the precipice of tiers," Fletcher said. "We now are concerned about the trends and we're concerned about the likelihood that we can tip back into purple."
Fletcher says over the last six days, San Diego County's daily unadjusted case rates continue to increase.
County Public Health Officer Dr. Wilma Wooten said since the start of this week, the county has seen its unadjusted case rate increase from 7.2 cases per 100,000 residents (7-day daily average from the previous week) on Sunday to 7.8 on Friday. The county's adjusted case rate has increased from 6.8 to 7.0 during the same time span.
The last week reported for the county, San Diego reported an unadjusted case rate of 7.2 and an adjusted case rate of 6.8.
Fletcher says the unadjusted case rate more closely represents the actual public spread of the coronavirus.
"The overwhelming majority of San Diegans are doing everything right. But we just have to go that extra mile in order to protect our status in our tier," Fletcher said.
According to the state's reopening tier system, counties with a case rate of more than 7.0 and/or testing positivity percentage of 8% or greater for two consecutive weeks are placed in the purple tier, the state's most restrictive.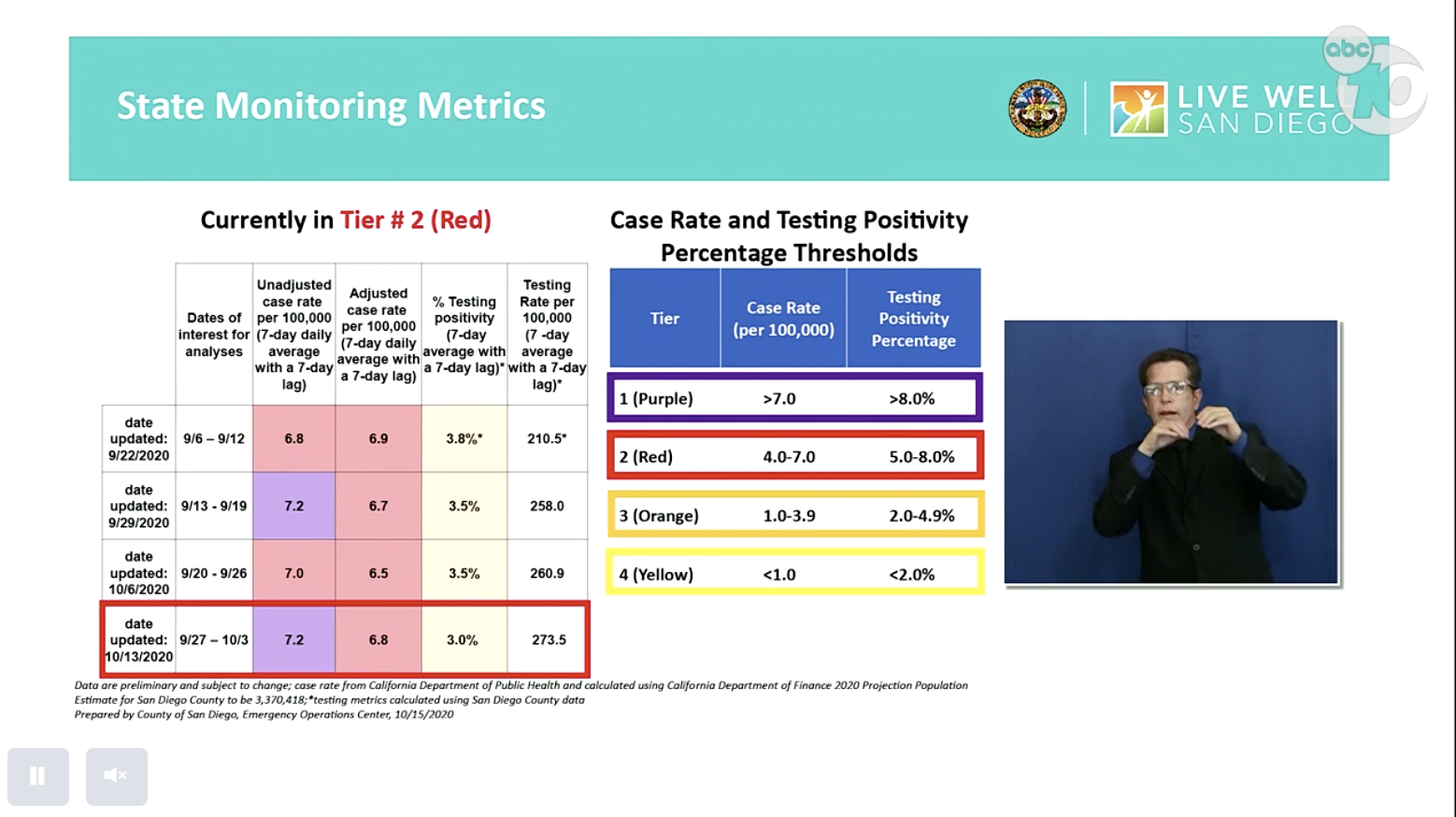 Next Tuesday, Oct. 20, the state will report metrics for Oct. 4-10. Then on Oct. 27, the state will report results from Oct. 11-17.
Officials say that's why they're sounding the alarm now, to encourage residents to double down on efforts around slowing the spread. Officials pointed to being more vigilant in facial coverings, avoiding indoor gatherings, and employers allowing more employees to telework.
If San Diego County is pushed into the state's purple tier, several business sectors would need to conduct operations outdoors or adjust indoor capacity:

Retail stores will have to lower to 25% capacity indoors,
Restaurants must move to outdoor dining only,
Shopping centers will move to 25% capacity with closed common areas and a closed food court,
Personal care businesses must move to outdoor operations,
Museums, zoos and aquariums will go to outdoors only,
Places of worship and movie theaters will be held outdoors only,
Gyms and fitness centers will also have to go outdoors only,
"We're here to sound the alarm," said County Public Health Officer Dr. Wilma Wooten. "Going forward, the actions we're asking you to take will help improve and have an impact on whether we go into the purple tier."