Super Bowl MVPs from 2000-2016
A look back at the Super Bowl MVPs since 2000.
Quarterback Kurt Warner led his St. Louis Rams to a 23-16 win over the Tennessee Titans in Super Bowl XXXIV (2000 in Atlanta).
Linebacker Ray Lewis was named MVP of Super Bowl XXXV (2001 in Tampa) after his Baltimore Ravens beat the New York Giants, 34-7.
Quarterback Tom Brady won the game's MVP award after leading his New England Patriots past the Rams, 20-17, in Super Bowl XXXVI (2002 in New Orleans).
Safety Dexter Jackson tallied two INTs on his way to the MVP award in the Tampa Bay Buccaneers' 48-21 win over the Oakland Raiders in Super Bowl XXXVII (2003 in San Diego).
Tom Brady was named MVP of Super Bowl XXXVIII (2004 in Houston) as the Patriots edged the Carolina Panthers, 32-29.
Wide receiver Deion Branch took home the MVP award for Super Bowl XXXIX (2005 in Jacksonville) after the Patriots beat the Philadelphia Eagles, 24-21.
In Super Bowl XL (2006 in Detroit), wide receiver Hines Ward was named the game's MVP after his Pittsburgh Steelers beat the Seattle Seahawks, 21-10.
Quarterback Peyton Manning won MVP honors after leading the Indianapolis Colts to a 29-17 win over the Chicago Bears in Super Bowl XLI (2007 in Miami).
Game MVP Eli Manning quarterbacked his New York Giants to a 17-14 upset win over the Patriots in Super Bowl XLII (2008 in Phoenix).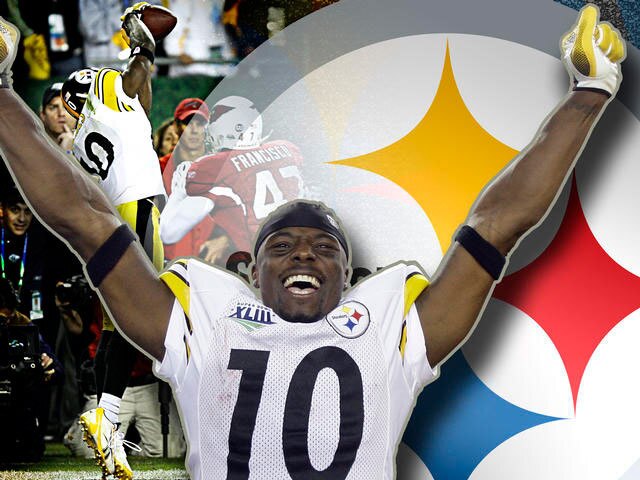 A game-winning catch by game MVP Santonio Holmes helped the Steelers slip past the Arizona Cardinals, 27-23, in Super Bowl XLIII (2009 in Tampa).
Quarterback Drew Brees was named MVP after leading the New Orleans Saints to a 31-17 win over the Colts in Super Bowl XLIV (2010 in Miami).
Green Bay Packers quarterback Aaron Rodgers was named MVP of Super Bowl XLV (2011 in Dallas) after his team's 31-25 victory over the Steelers.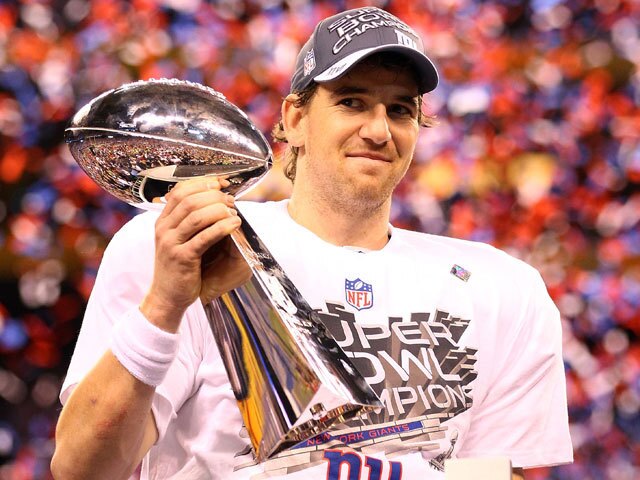 Eli Manning won his 2nd game MVP award as his Giants downed the Patriots in Super Bowl XLVI (2012 in Indianapolis), 21-17.
Joe Flacco threw 3 touchdown passes in Baltimore's 34-31 win over San Francisco in Super Bowl XLVII (2013 in New Orleans).
Linebacker Malcolm Smith returned an interception for a touchdown in Seattle's 43-8 victory over Denver in Super Bowl XLVIII (2014 in New York).
Tom Brady #12 of the New England Patriots celebrates after defeating the Seattle Seahawks during Super Bowl XLIX at University of Phoenix Stadium on February 1, 2015 in Glendale, Arizona. The Patriots defeated the Seahawks 28-24, and Brady was named MVP of the game -- his third overall Super Bowl MVP award.
Photo by: Rob Carr/Getty Images
Super Bowl MVP Von Miller #58 of the Denver Broncos celebrates with the Vince Lombardi Trophy after winning Super Bowl 50 at Levi's Stadium on February 7, 2016 in Santa Clara, California. The Broncos defeated the Panthers 24-10.
Photo by: Patrick Smith/Getty Images