In a picture-perfect ceremony on Saturday, Prince Harry married actress Meghan Markle at St. George's Chapel in Windsor Castle. Click thorough to view photos from the ceremony.
WINDSOR, UNITED KINGDOM - MAY 19: Prince Harry, Duke of Sussex and Meghan, Duchess of Sussex kiss as they leave St George's Chapel, Windsor Castle after their wedding ceremony on May 19, 2018 in Windsor, England. (Photo by Andrew Matthews - WPA Pool/Getty Images)
Photo by: WPA Pool
The newly-anointed Duchess of Sussex made an appearance Saturday evening ahead of her second wedding reception in a gown designed by Stella McCartney.
Photo by: Steve Parsons/PA Wire/AP
WINDSOR, UNITED KINGDOM - MAY 19: Prince Harry, Duke of Sussex and The Duchess of Sussex depart following their wedding in St George's Chapel at Windsor Castle on May 19, 2018 in Windsor, England. (Photo by Owen Humphries - WPA Pool/Getty Images)
Photo by: WPA Pool
WINDSOR, ENGLAND - MAY 19: Prince Harry, Duke of Sussex and the Duchess of Sussex in the Ascot Landau carriage during the procession on The Long Walk after getting married St George's Chapel, Windsor Castle on May 19, 2018 in Windsor, England. (Photo by Jeff J Mitchell/Getty Images)
Photo by: Jeff J Mitchell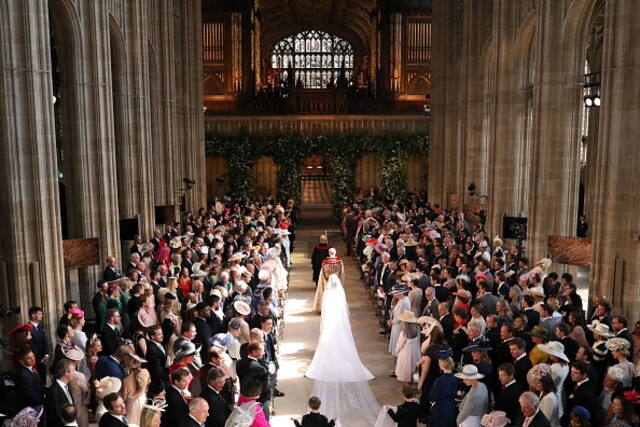 WINDSOR, UNITED KINGDOM - MAY 19: Meghan Markle walks up the aisle in St George's Chapel at Windsor Castle ahead of her wedding to Prince Harry on May 19, 2018 in Windsor, England. (Photo by Dominic Lipinski - WPA Pool/Getty Images)
Photo by: WPA Pool
WINDSOR, UNITED KINGDOM - MAY 19: Meghan Markle and her bridal party walk down the aisle of St George's Chapel at Windsor Castle for the wedding to Prince Harry on May 19, 2018 in Windsor, England. (Photo by Danny Lawson - WPA Pool/Getty Images)
Photo by: WPA Pool
WINDSOR, UNITED KINGDOM - MAY 19: Prince Harry and Meghan Markle leave St George's Chapel at Windsor Castle after their wedding on May 19, 2018 in Windsor, England. (Photo by Dominic Lipinski - WPA Pool/Getty Images)
Photo by: WPA Pool
WINDSOR, UNITED KINGDOM - MAY 19: Prince Harry, Duke of Sussex and Meghan, Duchess of Sussex leave St George's Chapel, Windsor Castle after their wedding ceremony on May 19, 2018 in Windsor, England. (Photo by Andrew Matthews - WPA Pool/Getty Images)
Photo by: WPA Pool
WINDSOR, UNITED KINGDOM - MAY 19: Prince Harry and Meghan Markle exchange vows during their wedding ceremony in St George's Chapel at Windsor Castle on May 19, 2018 in Windsor, England. (Photo by Owen Humphreys - WPA Pool/Getty Images)
Photo by: WPA Pool
WINDSOR, UNITED KINGDOM - MAY 19: Prince Harry and Meghan Markle during their wedding service, conducted by the Archbishop of Canterbury Justin Welby in St George's Chapel at Windsor Castle on May 19, 2018 in Windsor, England. (Photo by Dominic Lipinski - WPA Pool/Getty Images)
Photo by: WPA Pool
WINDSOR, UNITED KINGDOM - MAY 19: Prince Harry and Meghan Markle during their wedding service, conducted by the Archbishop of Canterbury Justin Welby in St George's Chapel at Windsor Castle on May 19, 2018 in Windsor, England. (Photo by Dominic Lipinski - WPA Pool/Getty Images)
Photo by: WPA Pool
WINDSOR, UNITED KINGDOM - MAY 19: Prince Harry and Meghan Markle during their wedding service in St George's Chapel at Windsor Castle on May 19, 2018 in Windsor, England. (Photo by Jonathan Brady - WPA Pool/Getty Images)
Photo by: WPA Pool
WINDSOR, UNITED KINGDOM - MAY 19: Prince Harry places the wedding ring on the finger of Meghan Markle during their wedding service, conducted by the Archbishop of Canterbury Justin Welby in St George's Chapel at Windsor Castle on May 19, 2018 in Windsor, England. (Photo by Jonathan Brady - WPA Pool/Getty Images)
Photo by: WPA Pool