SAN DIEGO (KGTV) — Sara Jacobs is leading in the race for the 53rd Congressional District, according to a San Diego Union-Tribune/10News poll released Tuesday.
Leading up to the Super Tuesday primary, the Democrat is polling ahead of Republicans Chris Stoddard and Famela Ramos, and fellow Democrat Georgette Gomez. However, 35 percent of respondents also listed themselves as undecided as of right now.
The 53rd Congressional District covers a more than three dozen central San Diego communities and is currently represented by Rep. Susan Davis.
"This is where the strategy of the political consultants comes into play," said political analyst John Dadian. "Sara Jacobs has been on TV now for quite a while," he said, referring to a television ad campaign Jacobs has run in recent weeks.
Dadian believes that early advertising is important, as there are 14 candidates in the race and name recognition is important. This is Jacob's second bid for congress, after failing in a bid to win the 49th district in 2018.
YOUR VOICE, YOUR VOTE: Poll shows where Californians stand on tighter gun laws
While Stoddard is in second with 10 percent, Dadian is surprised the other well-known candidate in the race, San Diego City Council President Georgette Gomez, is tied for third with 5 percent.
"She's a council president. That's a lot of power. I'm surprised that hasn't resonated in the polls," Dadian said.
Gomez launched her first television ad Monday, citing her opposition to the policies of President Donald Trump. That seems to match up with the beliefs of the district.
Looking at the issues, respondents say "holding the president accountable," "cost of living," and "climate change" are among the most important issues when choosing a Congressional representative.
One of those issues spills over into the next question on whether respondent approve or disapprove of President Trump. The majority of those polled disapproved.
Here's a look at all the poll results from the study:
---
One of the contests on the California Super Tuesday primary ballot is an election for US House of Representatives from California's 53rd Congressional District. Under California law, voters in a primary may choose a candidate from any political party. If the election for Congress were today, and you were filling out your ballot right now, who would you for vote for? (candidates rotated)
In choosing a candidate for Congress, which issue is most important to you? (issues rotated)
Do you approve or disapprove of the job Donald Trump is doing as President of the United States?
Do you approve or disapprove of the job Susan Davis is doing as U.S. Representative?
In general, should undocumented immigrants in the United States be allowed to stay? Or should they be deported back to their native countries?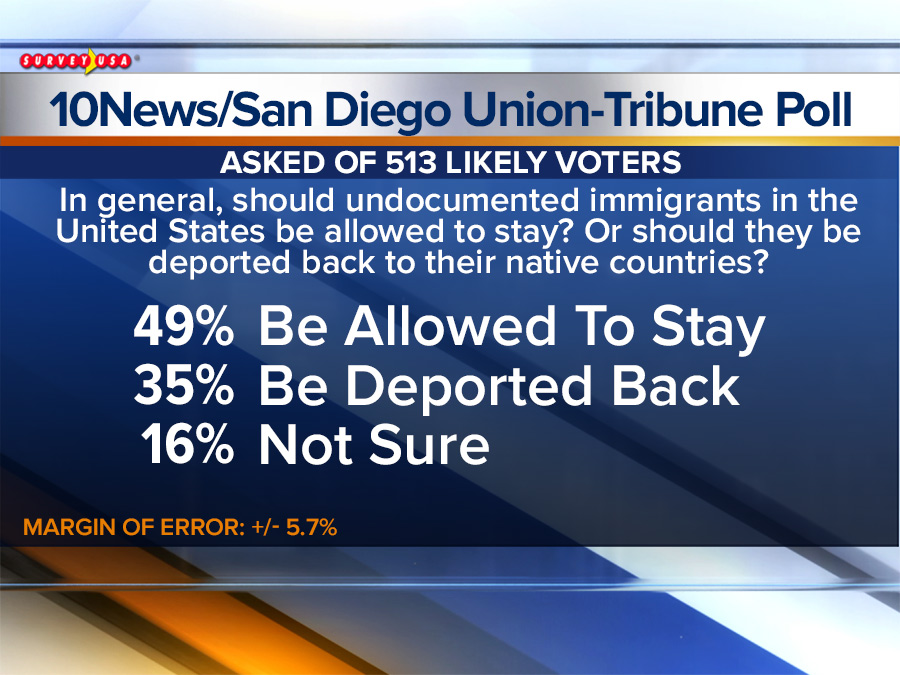 Should federal environmental regulations be made more strict? Made less strict? Or are they just about right?