Celebrity deaths of 2017: Look back at those we lost this year
Look back at the celebrities we lost in 2017, including athletes, actors, musicians and other notable people.

Look back at the notable people we lost in 2017, including actors, musicians, athletes and other beloved celebrities. Gallery by Clint Davis, Justin Boggs, Alex Hider / Scripps National Desk.


PAT DiNIZIO, 62 (Died: Dec. 13) — With a voice that helped define an era, DiNizio was the lead singer for The Smithereens. The rock group rose to prominence in the late '80s and early '90s with hits like "Only a Memory," "A Girl Like You" and "Too Much Passion." DiNizio fell at his home in September, but no cause of death was immediately available.
Photo by: Ezra Shaw

DAVID CASSIDY, 67 (Died: Nov. 21) — Star of "The Partridge Family" an icon of 1970s entertainment, Cassidy spent more than 40 years on screen and stage as an actor and singer. In addition to that beloved musical show, he also appeared in "Bonanza," "Malcolm in the Middle," "Celebrity Apprentice" and was nominated for an Emmy for his work in 1973's "Police Story." Cassidy died after suffering from liver and kidney failure.
Photo by: Frazer Harrison

Della Reese, 86 (Died: Nov. 19) — Best known for her role as Tess on the hit television show "Touched By An Angel," Reese passed away on Nov. 19 at her home in California. Reese had a storied career earning both Emmy and Grammy Award nominations. Not only was Reese and accomplished actress, but she also had a successful career as a jazz and gospel singer.
Photo by: Frederick M. Brown

MEL TILLIS, 85 (Died: Nov. 19) — An icon of country music, Tillis grew up with a severe stutter that only went away when he sang. Best known for 1970s songs like "I Ain't Never," "Sawmill," "Good Woman Blues" and "Heart Healer," Tillis is enshrined in the Country Music Hall of Fame and Nashville Songwriters Hall of Fame. He's survived by six children, including his daughter Pam Tillis, who's also a successful country music singer.
Photo by: Terry Wyatt

Malcolm Young, 64 (Died: Nov. 18) — The founding member and guitarist of the rock band AC/DC died at age 64 after a battle with dementia. Young left AC/DC in 2014 to seek treatment for dementia. Young's brothers Angus and Stevie remain with the band.

LIL PEEP, 21 (Died: Nov. 15) — The YouTube star and rising rapper was found dead inside his tour bus after a suspected overdose, according to TMZ. Lil Peep, born Gustav Ahr, had more than 300,000 subscribers on YouTube and counted celebrities like Post Malone and Bella Thorne among his fans.
Photo by: Pascal Le Segretain

ROY HALLADAY, 40 (Died: Nov. 7, 2017) — One of baseball's greatest recent pitchers, "Doc" Halladay split his career between the Toronto Blue Jays and Philadelphia Phillies. Among his list of achievements is a World Series title, two Cy Young Awards, eight All-Star Game selections, a no-hitter and a perfect game. An avid pilot, Halladay died after his private plane crashed into the Gulf of Mexico.
Photo by: Drew Hallowell

FATS DOMINO, 89 (Died: Oct. 24, 2017) — An early icon of rock and roll, Domino had dozens of hits in the 1950s and '60s, including "Blueberry Hill," "Ain't That a Shame" and "I'm Walkin'." He lived in New Orleans all his life and lost his home in Hurricane Katrina in 2006. Domino was named the 25th greatest performer in music history by Rolling Stone magazine.
Photo by: Hugo van Gelderen / Anefo

ROBERT GUILLAUME, 89 (Died: Oct. 24, 2017) — A two-time Emmy winner for his iconic role as Benson the butler in TV shows "Benson" and "Soap," Guillaume was a mainstay of screen and stage for 50 years. For younger audiences, he may be best known as the voice of Rafiki in "The Lion King" and as Isaac Jaffe in "Sports Night." Gamers will know him as the voice of Eli Vance in 2004's "Half-Life 2." On stage, he was nominated for a Tony for his work in "Guys and Dolls" in the 1970s. He died of prostate cancer shortly before his 90th birthday.
Photo by: Frederick M. Brown

TOM PETTY, 66 (Died: Oct. 2, 2017) — Rock & Roll Hall of Fame inductee Tom Petty died a day after he was found unconscious in his home, suffering from cardiac arrest. Petty and his band, The Heartbreakers, had been mainstays in pop music since they burst on the scene in 1977. Since then, Petty and the Heartbreakers releaed five certified gold albums, five certified platinum albums and took home three Grammys. Petty died just over a week after concluding a 50+ show tour.
Photo by: Samir Hussein

MONTY HALL, 96 (Died: Sept. 30, 2017) — This Canadian-born game show legend hosted the original "Let's Make a Deal" from 1963 to 1986. During a broadcasting career that lasted longer than 50 years, Hall also hosted a few local children's TV shows in New York, worked as a radio broadcaster for NHL games and hosted other game shows including "Video Village" on CBS.
Photo by: Chelsea Lauren

HUGH HEFNER, 91 (Died: Sept. 27, 2017) — The founder of "Playboy" magazine, Hefner was regarded as a champion of free speech right and an advocate of sexual liberation. In addition to his work with "Playboy," Hefner was a respected philanthropist and surprisingly became a reality TV star in 2005 with the popular series "The Girls Next Door," which followed life at the Playboy Mansion for he and his young girlfriends.
Photo by: Frederick M. Brown

CHARLES BRADLEY, 68 (Died: Sept. 23, 2017) — A raw force of soul power who didn't find mainstream fame until late in life, Bradley was a favorite of live audiences around the world thanks to his emotional performances. After battling stagefright as a young man, Bradley made money by working as a James Brown tribute artist. He got signed to a record label in the 2000s and released three albums from 2011 to 2016. Bradley died of cancer in the middle of a scheduled U.S. tour.
Photo by: Rich Fury

HARRY DEAN STANTON, 91 (Died: Sept. 15, 2017) — A quintessential character actor whose Hollywood career spanned 50 years, Stanton appeared in iconic movies of every decade, including "Cool Hand Luke," "Alien," "Red Dawn" and "The Avengers." Earlier in 2017, at the age of 90, Stanton stared in the movie "Lucky," which was praised by critics.
Photo by: Jason Merritt

SHELLEY BERMAN, 92 (Died: Sept. 1, 2017) — A popular stand-up comedian in the late 1950s and early 1960s, Berman's 1959 album "Inside Shelley Berman" was the first comedy record to sell at least 500,000 copies. He later became an actor and was nominated for an Emmy Award in his work on HBO's "Curb Your Enthusiasm," in which he played Larry David's father. He died of complications from Alzheimer's disease.
Photo by: Stephen Shugerman

JERRY LEWIS, 91 (Died: August 20, 2017) — Known for his work in film as well as hosting an annual telethon for the Muscular Dystrophy Association, Lewis helped raise nearly $2.5 billion for the MDA. Lewis died in his home in Las Vegas of natural causes.
Photo by: Andrew H. Walker

DICK GREGORY, 84 (Died: Aug 19, 2017) — A civil rights icon and social rights advocate, Gregory broke the color barrier at a number of comedy clubs across America, often being the first black comedian to perform at white comedy clubs. Gregory died on Aug. 19 of heart failure.
Photo by: Jason Davis

Glen Campbell, 81 (Died: August 8, 2017)Ten-time Grammy Award winning musician Glen Campbell, best known for performing songs like "Rhinestone Cowboy" and "Wichita Lineman," has died at the age of 81.
Photo by: Rick Diamond

SAM SHEPARD, 73 (Died: July 27, 2017) — A legendary actor and playwright, Shepard won a Pulitzer Prize and was nominated for an Oscar during his unique career. In addition to acting in films like "The Right Stuff," "Mud" and "Steel Magnolias," Shepard wrote dozens of acclaimed dramas including "Buried Child" and "True West."
Photo by: Amy Sussman

JUNE FORAY, 99 (Died: July 26, 2017) — One of the all-time icons of voice acting, Foray performed the voices of dozens of cartoon characters including Rocky the Flying Squirrel, Granny from the Tweety cartoons and Cindy Lou Who from "How the Grinch Stole Christmas." Foray worked steadily in radio, television and film since the 1930s. In the entertainment industry, she's credited with being a major force behind animation becoming considered a legitimate form of art in America.
Photo by: Kevin Winter

JOHN HEARD, 72 (Died: July 22, 2017) — Best known for his role as Peter McCallister in the first two "Home Alone" movies, Heard's acting career spanned more than 40 years. He had parts in beloved movies like "Beaches" and "Big," as well as cult favorites like "C.H.U.D." and "Sharknado." His role as a crooked detective in HBO's "The Sopranos" earned him an Emmy nomination.
Photo by: Frazer Harrison

CHESTER BENNINGTON, 41 (Died: July 20, 2017) — Bennington was the frontman for alternative metal bank Linkin Park for nearly two decades. The Phoenix native joined the band, then known as Xero, in 1999. His vocal chemistry with co-lead vocalist Mike Shinoda led the band to two Grammy awards, one in 2002 and one in 2006. Bennington was found dead on July 20, dead of an apparent suicide.
Photo by: Kevin Winter

GEORGE A. ROMERO, 77 (Died: July 16, 2017) — Not many people can say they invented a popular movie genre but George A. Romero can be credited as the father of the zombie movie. His 1968 horror classic "Night of the Living Dead" spawned many sequels and imitators in the decades following. Romero was a horror icon, also directing "Creepshow," "The Crazies," "Dawn of the Dead" and "Day of the Dead." He died after a short battle with lung cancer.
Photo by: Lars Niki

MARTIN LANDAU, 89 (Died: July 15, 2017) — Landau was an icon of movies and television for more than 50 years, with a resume most actors would give a limb for. He was nominated for three Oscars, finally winning for 1994's "Ed Wood," and earned many other honors during his career, including multiple Emmy nominations for his starring role in the TV series "Mission: Impossible." Before acting, he worked as an editorial cartoonist at the New York Daily News.
Photo by: Jason Merritt

NELSAN ELLIS, 39 (Died: July 8, 2017) — This Juilliard-educated actor was best known for his role as Lafayette in HBO's "True Blood." His role was a fan favorite that appeared in the show's entire seven-season run. Ellis also appeared in several films, including "The Express," "Secretariat" and "The Butler," in which he played Martin Luther King, Jr. Ellis battled drug and alcohol abuse and died at the age of 39 from complications of alcohol withdrawal, according to his family.
Photo by: Jamie McCarthy

MICHAEL BOND, 91 (Died: June 27, 2017) — Bond created one of the most beloved children's book characters of all time in Paddington bear. The adventures of the globe-trotting teddy sold 35 million books worldwide in Bond's lifetime. The first Paddington book was published in 1958. Before writing, Bond served in the British military and was honored with a CBE commendation in 2015.
Photo by: WPA Pool

MICHAEL NYQVIST, 56 (Died: June 27, 2017) — Best known for his lead role in the original "Girl with the Dragon Tattoo" film trilogy, Swedish actor Michael Nyqvist didn't become known to many Americans until the past decade. Since 2011, he played the main villain in Hollywood blockbusters "Mission: Impossible - Ghost Protocol" and "John Wick." He died after battling lung cancer.
Photo by: Joerg Koch

STEPHEN FURST, 63 (Died: June 16, 2017) — Known for his turn as Kent "Flounder" Dorfman in 1978's "Animal House," Furst had a long career as an actor, director and producer. He had lengthy stints on popular TV shows "St. Elsewhere" and "Babylon 5" in the '80s and '90s, respectively. Furst also did voice work in several Disney animated projects including "Buzz Lightyear of Star Command."

PRODIGY, 42 (Died: June 20, 2017) — Born Albert Johnson, Prodigy was one half of the hip-hop duo Mobb Deep. The group was respected for its dark beats and hardcore lyrics depicting city life. Over his career, he also worked with Nas, LL Cool J and 50 Cent.
Photo by: Michael Loccisano

JOHN G. AVILDSEN, 81 (Died: June 16, 2017) — If you love underdog stories, chances are that one of Avildsen's movies is among your favorites. The director won an Oscar for directing 1976's "Rocky" and later directed the "Karate Kid" movies. Other films he made include "8 Seconds," "Lean On Me" and 1999's "Inferno," which was his final project. He died of pancreatic cancer, according to his son.
Photo by: Matt Winkelmeyer

ADAM WEST, 88 (Died: June 9, 2017) — The first actor to play Batman in a feature film, West starred as the Caped Crusader in 1966's "Batman," as well as the ABC TV show that ran from 1966 to 1968. West's career included dozens of roles, including voice acting spots on "Family Guy," "The Simpsons" and "The Fairly OddParents," among many others. He continued to work until the end of his life, serving as narrator on the NBC show "Powerless" in 2017. He died of leukemia.
Photo by: Mike Coppola

FRANK DEFORD, 78 (Died: May 28, 2017) — One of America's most revered and beloved sports journalists, Deford was a longtime contributor to Sports Illustrated, HBO's "Real Sports with Bryant Gumbel" and NPR's "Morning Edition." Deford stepped down from his post at NPR just weeks before his death. He passed away at his home in Florida.
Photo by: Evan Agostini

JIM BUNNING, 85 (Died: May 26, 2017) — Bunning holds the distinction of being the only person to be elected to both the National Baseball Hall of Fame and the U.S. Senate. He spent 16 seasons as an MLB pitcher, including nine seasons as an All-Star. He threw a perfect game in 1964 and a no-hitter in 1958. After baseball, Bunning was elected to various offices in his home state of Kentucky, including to the U.S. Senate, where he served from 1999 to 2011.
Photo by: Jim McIsaac

GREGG ALLMAN, 69 (Died: May 27, 2017) — The co-founder of the Allman Brothers Band and an icon of rock history, Allman's vocal and guitar playing abilities were as praised as his songwriting skills. Allman also had a solo recording career that spanned nearly 40 years and included hits with 1973's "Midnight Rider" and 1987's "I'm No Angel." Allman died from complications of cancer.
Photo by: Gustavo Caballero

LAURA BIAGIOTTI, 73 (Died: May 26, 2017) — The Italian fashion designer known as "The Queen of Cashmere" conquered global markets with her loose-fitting women's clothing. Biagiotti was the first Italian designer to ever put on a fashion show in China. She died of a heart attack in Rome.
Photo by: Elisabetta Villa

CORTEZ KENNEDY, 48 (Died: May 23, 2017) — A member of the Pro Football Hall of Fame, "Tez" spent 11 seasons with the Seattle Seahawks at defensive tackle. Before that he won an NCAA championship as part of the dominant Miami Hurricanes in 1989. In the NFL, Kennedy was an 8-time Pro Bowl selection and was named the NFL's Defensive Player of the Year in 1992.
Photo by: Otto Greule Jr

ROGER MOORE, 89 (Died: May 23, 2917) — A British acting legend, Moore played James Bond in seven movies from 1973 to 1985. He also starred in the long-running U.K. spy series "The Saint" before playing Agent 007. He was also a respected humanitarian, working extensively with UNICEF. Moore's family said he passed after a short battle with cancer.
Photo by: Michael Buckner

ROGER AILES, 77 (Died: May 18, 2017) — The founder of Fox News channel, Ailes served as the network's CEO from 1996 to 2016. He's credited with building the network into a ratings powerhouse. He resigned in 2016 after allegations of sexual harassment from female employees including anchor Gretchen Carlson, with whom the network settled for $20 million.
Photo by: Handout

CHRIS CORNELL, 52 (Died: May 17, 2017) — One of the most powerful voices in rock was silenced on May 17. Cornell, who sang for bands including Soundgarden, Audioslave and Temple of the Dog, died after a performance in Detroit. His voice was consistently ranked among the best in rock history in polls and critic's lists.
Photo by: Rick Diamond

POWERS BOOTHE, 68 (Died: May 14, 2017) — Actor Powers Boothe was known for his authoritative portrayals of characters across television and movies since the 1970s. His most well known performances came in "Tombstone," "Deadwood," "Sin City" and as cult leader Jim Jones in "Guyana Tragedy," which won him an Emmy Award. He also recently appeared in Marvel's "The Avengers" and "Agents of S.H.I.E.L.D."
Photo by: Alberto E. Rodriguez

MICHAEL MANTENUTO, 35 (Died: April 24, 2017) — In Maine, Mantenuto was a college hockey star in real life, which ultimately helped him earn a starring role in Disney's 2004 hockey movie "Miracle." He apparently didn't seriously pursue acting afterward, appearing in only one other film. Mantenuto instead joined the U.S. Army. He was found dead in Washington on April 24 of an apparent self-inflicted gunshot wound.

JONATHAN DEMME, 73 (Died: April 26, 2017) — A director whose style was as wide ranging as it was acclaimed, Demme's films included two beloved ones from the 1990s: "The Silence of the Lambs" and "Philadelphia." He also directed music videos and a list of music documentaries, including 1984's landmark "Stop Making Sense" with Talking Heads. His last film was 2015's "Ricki and the Flash." He died after fighting cancer since 2010.
Photo by: Cindy Ord

ERIN MORAN, 56 (Died: April 22, 2017) — A staple of American TV in the 1970s and '80s, Moran was best known for her role as Joanie Cunningham in the popular shows "Happy Days" and "Joanie Loves Chachi." She started acting when she was 5 years old, working steadily before first playing Joanie at the age of 13. She died at her home in Indiana of complications from cancer.
Photo by: Frazer Harrison

CUBA GOODING SR., 72 (Died: April 20, 2017) — Gooding was lead singer for the R&B group The Main Ingredient, which had a hit with the 1972 song "Everybody Plays the Fool." He was also the father of Oscar-winning actor Cuba Gooding Jr. Gooding was found dead in a car in Los Angeles.
Photo by: Chris Brandis

AARON HERNANDEZ, 27 (Died: April 19, 2017) — A star tight-end for the Florida Gators and NFL's New England Patriots, Hernandez's football career ended when he was arrested for murder in 2013. He was found guilty of killing Odin Lloyd and was sentenced to life in prison. On April 19, 2017, Hernandez was found dead in his prison cell of an apparent suicide.
Photo by: Otto Greule Jr

Charlie Murphy, 57 (Died: April 12) — The older brother of Eddie Murphy, Charlie Murphy became a star in his own right by stealing scenes in "Chappelle's Show." His recurring sketch "Charlie Murphy's True Hollywood Stories" is regarded as a TV classic. More recently, Murphy has appeared in "Black Jesus." Murphy died after battling leukemia.
Photo by: Christopher Polk

John "J." Geils, 71 (Died: April 11, 2017) — Founder and guitarist of the beloved J. Geils Band, Geils transitioned from rock star to "regular guy" after the dissolution of the band in 1985, according to an interview with the Boston Globe. The band drew a massive following it its native Boston before becoming worldwide stars in the 1980s with hit songs like "Centerfold" and "Freeze Frame." Geils was found dead inside his home in Massachusetts.
Photo by: John W. Ferguson

DON RICKLES, 90 (Died: April 6, 2017) — A comic icon whose biting brand of insult humor was balanced by his well-known kindness off stage. Rickles was a staple of the Las Vegas entertainment scene during the days of the Rat Pack and was a fixture of celebrity roasts for decades. He also appeared in dozens of movies, including Martin Scorsese's "Casino" and as the voice of Mr. Potato Head in the "Toy Story" series.
Photo by: Kevin Winter

DALLAS GREEN, 82 (Died: March 22, 2017) — Green was a former MLB player who was best known for managing the Philadelphia Phillies to its first World Series title in 1980. Green's career saw him in high positions at four big-market baseball teams, including as manager of the Phillies, New York Yankees and New York Mets and as general manager of the Chicago Cubs.
Photo by: Lisa Lake

CHUCK BERRY, 90 (Died: March 18, 2017) — Widely regarded as the father of rock and roll, Berry's showmanship on stage was matched by his masterful skills on guitar. He was one of the first popular artists to write his own songs, including "Maybellene," "Johnny B. Goode" and "No Particular Place To Go." After his death, it was announced Berry's first new studio album since 1979 would hit shelves in 2017.
Photo by: Pascal Le Segretain

ROBERT OSBORNE, 84 (Died: March 6, 2017) — A smooth host and a walking encyclopedia of movie history, Osborne was the face of Turner Classic Movies for 23 years. Before his time as a host at TCM, Osborne was an actor and entertainment columnist. He was given a star on the Hollywood Walk of Fame and won a Peabody Award during his long career.
Photo by: Neilson Barnard

JOSEPH WAPNER, 97 (Died: Feb. 26, 2017) — Judge Wapner became a household name after presiding over "The People's Court" on TV during the show's original run, making him a pioneer of reality television. His legacy in pop culture was further cemented in 1988's Oscar-winning movie "Rain Man," in which Dustin Hoffman's character makes constant references to him. Wapner was a World War II veteran of the United States Army, where he earned a Purple Heart.
Photo by: Kristian Dowling

BILL PAXTON, 61 (Died: Feb. 26, 2017) — A beloved actor who died much too young, Paxton passed away after complications from surgery. He was best known for starring in 1980s and 1990s blockbusters like "The Terminator," "Titanic" and "Twister." He also earned acclaim for his lead role in HBO's series "Big Love" and History's "Hatfields & McCoys."

ALAN COLMES, 66 (Died: Feb. 23, 2017) — A fixture of Fox News Channel since the network's launch in 1996, Colmes was the liberal co-host of "Hannity & Colmes" for 13 years. He was also an author, syndicated radio host, blogger and stand-up comedian. Colmes died of lymphoma in his native New York.
Photo by: Justin Hoch

GEORGE "THE ANIMAL" STEELE, 79 (Died: Feb. 17, 2017) — For 20 years, Steele was one of the most feared men in professional wrestling. His bizzare in-ring antics included tearing the turnbuckles open with his teeth. He was inducted into the WWE Hall of Fame in 1995. A Michigan native, Steele worked as a high school teacher and football coach before stepping into the squared circle.

AL JARREAU, 76 (Died: Feb. 12, 2017) — Jarreau's smooth voice made him a lasting voice of American soul and R&B until his death. He was a seven-time Grammy Award winner, best remembered for his 1981 smash hit album "Breakin' Away," which spent two years on the charts. His music was used in movies and television and his last album came out in 2014. Jarreau died just two days after announcing his retirement from music.
Photo by: Mauricio Santana

MIKE ILITCH, 87 (Died: Feb. 10, 2017) — One of the richest people in America, Ilitch founded Little Caesars Pizza and owned both the NHL's Detroit Red Wings and MLB's Detroit Tigers. He remained in his native Detroit after all his success. After his passing, it was revealed that Ilitch paid Rosa Parks's rent so that she could live in a nice part of Detroit for the last years of her life.
Photo by: Jed Jacobsohn

JOHN HURT, 77 (Died: Jan. 27, 2017) — Often regarded as one of the greatest British actors in history, Hurt's career spanned 50 years and included roles in many iconic movies. In the 1970s and '80s, his career picked up in Hollywood with roles in "Alien," "The Elephant Man" and "Nineteen Eighty-Four." He consistently worked on screen from that point, later appearing in the "Harry Potter" and "Hellboy" series. After his death, he has five film performances coming out in 2017.
Photo by: Chris Jackson

MIKE CONNORS, 91 (Died: Jan. 26, 2017) — A veteran actor with more than 100 screen credits over more than 50 years, Connors is best remembered for his starring role in CBS's "Mannix." Connors won a Golden Globe for his work on the show and was nominated for four Emmy Awards. He died a week after being diagnosed with leukemia.
Photo by: Frederick M. Brown

MARY TYLER MOORE, 80 (Died: Jan. 25, 2017) — One of the most beloved stars in television history, Moore was acclaimed for her starring roles in two long-running shows: "The Dick Van Dyke Show" and "The Mary Tyler Moore Show." She was also nominated for an Oscar for her work in 1980's "Ordinary People." Off screen, Moore was a tireless activist for Type 1 diabetes research, a disease which she suffered from.
Photo by: Chip Somodevilla

YORDANO VENTURA, 25 (Died: Jan. 22, 2017) — A rising MLB star, Ventura died in a car crash after just three years in the big leagues. On the pitcher's mound, he helped the Kansas City Royals win a World Series in 2015 and was named the MLB All-Star Futures Game twice in his short career.
Photo by: Rob Carr

JIMMY "SUPERFLY" SNUKA, 73 (Died: Jan. 15, 2017) — In a professional wrestling career that spanned nearly 50 years, Snuka became a beloved legend for his high-flying theatrics. His leaps off the top rope were the first of their kind in the WWE. "Superfly" was inducted into the WWE Hall of Fame in 1996 and was also a staple of the early days of the infamous ECW promotion. At the end of his life, Snuka was arrested as a suspect in the 1983 cold-case death of his girlfriend but was deemed unfit to stand trial because of dementia.
Photo by: Bill Olive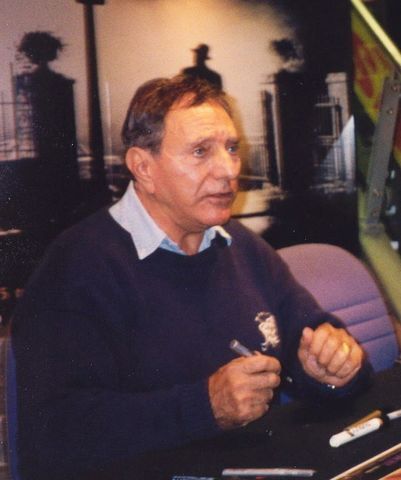 WILLIAM PETER BLATTY, 89 (Died: Jan. 12, 2017) — Responsible for more nightmares than most writers, Blatty wrote the novel "The Exorcist" and won an Oscar for writing the screenplay to its classic movie version. He also wrote and directed 1990's "The Exorcist III." Before becoming a professional writer, Blatty served in the United States Air Force.