ESCONDIDO, Calif. (KGTV) — Escondido boasts a variety of family-friendly fun throughout the city.
Located in North County, just 30 minutes east of Carlsbad's coastline, Escondido is surrounded by avocado and citrus groves.
The homey farmland mixes old charm with new entertainment found around town, like the amazing performances at the California Center for the Arts, Escondido. Cruisin' Grand gives families the chance to peruse classic cars on display along the city's downtown streets.
RELATED: Experience a blast from the past at Escondido's Heartbreak Hotel
Or visitors can begin their visit at one of the city's more well-known stops, like Stone Brewing World Bistro and Gardens or the San Diego Zoo Safari Park.
Wherever they begin, families are sure to enjoy Escondido's other local favorites, like Rosie's Café, Queen Califia's Magical Circle, or the Escondido Antique Mall.
---
Rosie's Café
117 W. Grand Ave.
RosiesCafeOnGrand.com
This diner continues to serve customers down home favorites since it first opened in 2016. Rosie's is the fourth restaurant at the location within the past 100 years, but it is still a go-to destination for Escondido residents (and out-of-towners) to come together for a good meal and great times.
Before it became Rosie's, the restaurant Champion's was in place and was offering comfort food and traditional diner fare. When Rosie's Café took over, much of Champion's offerings stayed on the new menu. Some of the more popular items include the Jersey Pork Roll, Corned Beef Hash and variety of benedicts.
Thanks to the Food Network show "Restaurant: Impossible," Rosie's Café recently underwent a makeover that includes some new menu items and interior upgrades, but the retro diner joint vibe remains in place.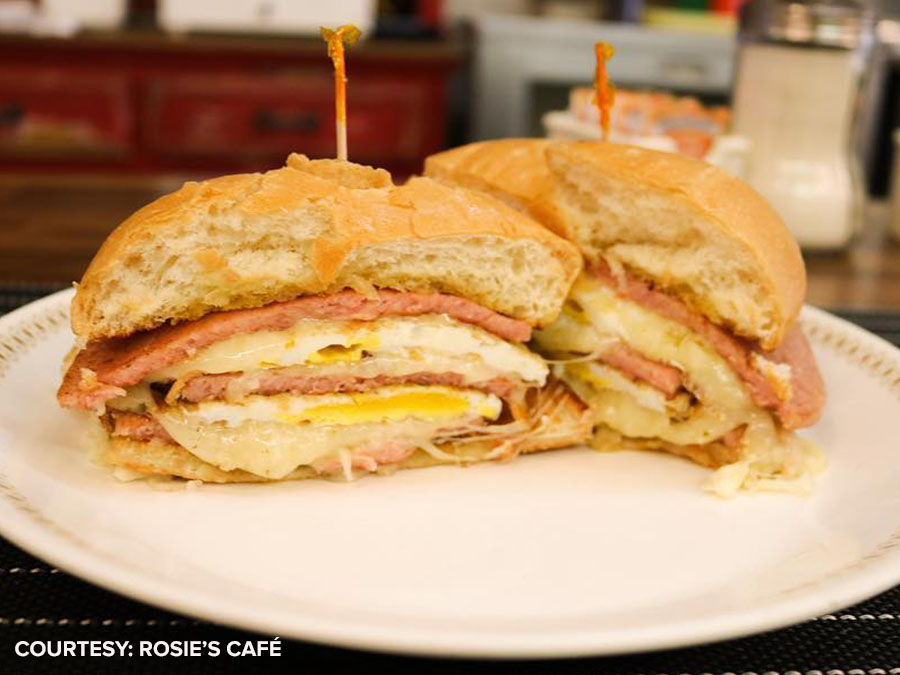 <hr/>Suzy Q's Diner
258 E 2nd Ave., Ste. 2
Suzy Q's Diner on Facebook
A visit to Suzy Q's will take customers back to the 1950s diner scene, with its historical décor and old-fashioned ambiance. From the flooring to the barstools, to the chalkboard displaying the blue plate specials and the dishes named after entertainers of that era, the family owned and operated Suzy Q's Diner delivers when it comes to the quintessential diner experience.
Owner Suzanne Iseminger, who came to the U.S. from Taiwan, worked at numerous restaurants around San Diego County before opening Suzy Q's Diner in 2014. Iseminger said eating at diners throughout the years inspired her eatery's 1950s-style atmosphere and menu.
Suzy Q's customers will have a variety of items to choose from, but the restaurant is known for its Corned Beef Hash, the one-of-a-kind Jalapeño Hashbrowns, and new specials like the Elvis-inspired PB and Jelly Sandwich.
<hr/>Peterson's Donut Corner
903 S Escondido Blvd.
Peterson's Donut Corner menu
Considered by many to be one of San Diego County's best donut shops, Peterson's has been offering some great pastries and donuts in Escondido for nearly 40 years.
Peterson's is open 24 hours a day and seven days a week for anyone in the mood for a bear claw, a cinnamon roll, an old-fashioned cake donut or any of the other sweet treats on the menu.
<hr/>Queen Califia's Magical Circle
3333 Bear Valley Pkwy.
Snuggled in Kit Carson Park, families can discover shimmering snakes and totems and let their imagination run wild.
Queen Califia's Magical Circle is the last major international project and only American sculpture garden by French artist Niki de Saint Phalle. The garden opened in 2003, sporting 12 acres of large-scale sculptures, including a circular "snake wall," a sculpture of "Queen Califia" standing on an eagle's back, and totem sculptures all covered in mosaic art. Families can explore the artistic wonders through the maze of colors or sit down and enjoy the day surrounded by wonder.
The garden is named after the Amazon queen, Califia, who is believed to have ruled a terrestrial island paradise filled with gold and riches near the Indies. Features of the garden are inspired by Califia's reign and the cycle or birth, death, and transformation.
The garden took four years to plan and build before Saint Phalle died in 2002. Saint Phalle's grand-daughter, Bloum Cardenas, said Queen Califia's Magical Circle was, "my grandmother's gift to the region. Niki's first significant architectural project was 'The Bird's Dream' and she called it that because her personal symbol was the eagle. This garden, then, is the final realization of the bird's dream, Niki's dream, to create a wonderful legacy for a place she dearly loved."
---
EcoVivarium
136 S Juniper St.
A hidden gem or reptile fun in Escondido, EcoVivarium is relatively new but educates and entertains with its assortment of more than 200 reptiles, amphibians, and arthropods.
On tours of the museum, guests have the opportunity to pet and hold 15-20 well-trained ambassador animals with tour guides. Nearly all of the museum's animal ambassadors are rescued animals who have gone through rehabilitation, both physically and behaviorally, to be able to interact with guests.
The museum also offers summer programs that give kids the chance to get excited about animals through hands-on experiences, projects, and adventures. Immersive programs like this give families tons to explore in the world of reptiles and their role in our environment.
"We not only have the obligation to educate our children – but a greater responsibility to instill in them a passion and excitement for learning about this world, its history, its many and varied inhabitants and their impact on each other and the planet itself," the museum says.
---
Escondido Antique Mall
135 W Grand Ave.
A step back in time is just steps from Escondido City Hall at the Escondido Antique Mall.
Shoppers can explore a ton of Americana-themed items and vintage inventory between the 42 vendor booths that line the mall. Whether searching for something to use around the house, fix up and put your own mark on, or collectibles to cherish, the wide array inside the shop is bound to turn up something eye-catching.
The mall opened in 1985, according to the mall, and while there may not be items from '85 on the shelves today, there are numerous other items to explore from years priors. Vendors are constantly cycling through their inventory, giving customers the chance to discover something new every visit.
As newer retailers crop up around town, the Antique Mall gives visitors a slice of something old and nostalgic that feels brand new to them.