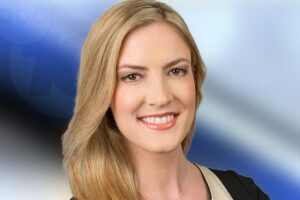 A California native, Amanda is grateful to be telling stories at home! She joined the 10News team in April 2017. You'll see her on TV, but behind the scenes she shoots, writes and edits all of her stories.
After graduating from San Diego State University, Amanda began her career in Grand Junction, CO. There she covered major events like the legalization of recreational marijuana and presidential visits. She earned a Colorado Broadcaster's Association Award for her reporting on a community gun ordinance. The local community honored her reporting as well, naming her Mesa County Journalist of the Year.
Amanda's career continued down south in Austin, TX. Through her reporting she helped keep the community informed during historic flooding events.
She's most proud of the stories that make a real difference, like helping a man in need of a new wheelchair get the attention of an insurance company that refused to help him. She was also honored several times by the National Press Photographer's Association for her solo video reporting.
Now that she's back on the West Coast, Amanda plans to make up for lost time at the beach. When the Dodgers aren't in town, she'll be cheering on the Padres at Petco Park. She looks forward to getting involved in her community and getting to know the people that make it great.
Amanda loves telling stories that make a difference and putting a spotlight on people that are making an impact.
She'd love to hear your story ideas and there's a lot of ways you can reach her!