SAN DIEGO (KGTV) -- San Diego Police Chief David Nisleit has ordered an internal investigation into a controversial arrest that is making the rounds on social media.
The video shows a protester being taken away in an unmarked van as one officer warns her family around her not to follow them or he will shoot.
Thursday at around 9:30 pm, a young woman is handcuffed on Park Avenue. Moments later, she is snatched off the street and taken away in the unmarked police vehicle.
"She said somebody took Shayla; like somebody came and took her," the woman's mother, Breann Piccini, told ABC 10News exclusively. (WATCH VIDEO IN PLAYER ABOVE STORY)
The woman detained in the video is a 20-year-old biracial San Diego State University student, Shayla Piccini.
Piccini's mother said Shayla and her cousins spent the day at a massive protest in Downtown San Diego. After several hours, the group was walking back to their car when Shayla saw several police motorcycles driving past them. At that moment, Shayla held up her cardboard sign, according to her mother.
Yesterday afternoon, I directed the Internal Affairs unit to open an investigation into the arrest at 1400 Park Blvd on the evening of Thursday, June 5th. @GGomezD9, the investigation is already underway.

— David Nisleit (@ChiefNisleit) June 6, 2020
"The last motorcade cop was going by, and she was, 'like, oh, that's all of them,'" Piccini said.
She said what her daughter thought was an innocent act ended up getting her arrested.
You can hear a man say in the viral video that "she swung her sign at the motorcade."
San Diego police say detectives witnessed her step off the sidewalk and swing the sign at a passing motorcycle officer.
In the foreground of the video, you can see men in what look to be marked police vests. But the people handcuffing and detaining Piccini in an unmarked van, are in plain clothes.
One man wearing military-style tactical gear can be heard in the video saying, "You follow us, you will get shot. You understand me?"
According to San Diego Police, this statement about shooting those attempting to follow was made by a SWAT officer who had a pepper ball device. SDPD also tells 10News that his comment was a valid announcement of use of force.
In the video, Piccini's cousin, who goes down onto her knees with her hands raised, asks multiple times who they are and where they are taking her. But no answer can be heard. The van then speeds away.
"They thought the worst, the absolute worst," her mother said.
Police said due to the large crowd still in the area, and the detectives felt the need to leave immediately. However, Piccini told 10News there were only about ten to 15 people nearby.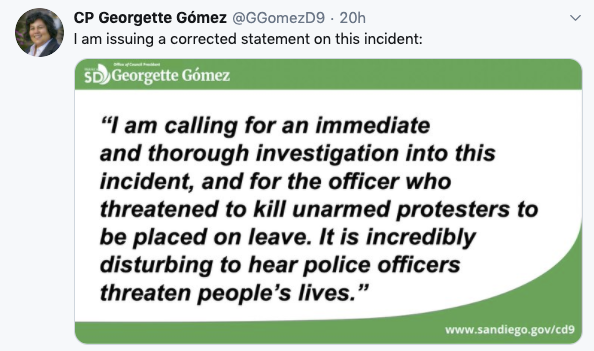 Piccini said her family believed she was kidnapped, possibly by a militia. An hour later, Piccini pinged her daughter's phone and found she was at SDCCU Stadium. It was only then that she discovered that plain-clothed officers had detained her daughter.
"They could have taken two minutes to say, 'We are San Diego Police. Here's the number you can call, you'll see her booked in the system in an hour,'" Piccini said.
Shayla Piccini was later booked at Los Colinas Detention Facility on suspicion of assault on an officer. She was released on her own recognizance Friday morning.
Piccini said her daughter has never gotten in trouble. She is now so traumatized, she has not left the house and is too afraid to go on another protest. Piccini is hoping for a systematic change.
"This is exactly what's being fought," Piccini said. "You have innocent people with their hands up, telling you, 'Just tell me where she is going?' And that's the reaction. 'Don't follow us, or I will shoot you.' I ask that the next time you encounter somebody, please just treat them with a little bit of compassion, empathy, and understanding."
Piccini said her family will fight the assault charge if it is filed. San Diego police told ABC 10News that the officers involved have been reassigned.