(KGTV) - San Diego has had some of the largest wildfires in California's history. Here's a look at the most significant disasters.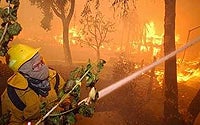 2003 - Cedar Fire: 15 people killed, 280,278 acres burned, 2,820 buildings destroyed.
At the time, this was the largest wildfire in California history. It started October 25 in the Cleveland National Forest when a hunter got lost and lit a fire to signal for help. The fire crossed into the City of San Diego October 26. The communities of Scripps Ranch and Tierrasanta were hardest hit, according to the City. The loss was estimated at $204 million. [Data: City of San Diego]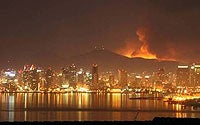 2007 - Witch Creek-Guejito and Harris Fires: 7 people killed, 288,430 acres burned, 1,650 buildings destroyed.
The Witch Creek fire started when power lines whipped by Santa Ana winds started a small fire east of Ramona. It spread to San Diego city limits and merged with the Guejito Fire, which started in the San Pasqual Valley. The Harris fire started the same day in Potrero. The fires triggered the largest evacuation in San Diego County, forcing more than 500,000 people from their homes. [Data: City of San Diego]
2014: Cocos, Poinsettia, Bernardo Fires: 26,000 acres, 65 structures destroyed.
14 separate fires burned in San Diego County in May 2014. The largest were the Bernardo, Cocos and Poinsettia fires. The property damage is estimated at almost $30 million and firefighting costs at $28.5 million. [Data: ReadySanDiego.org]
2016: Border Fire: Two people killed, 7,609 acres burned, 18 structures destroyed.
The fire started in the East County community of Potrero on June 17. Temperatures reached a high of 107 degrees with 9% humidity. Damage and firefighting costs reached almost $20 million. [Data: ReadySanDiego.org]