North San Diego County home features saloon, six-shooter doors
For Sale: Spanish colonial compound in beautiful Rancho Santa Fe featuring stage, saloon, motor coach garage. If you're interested in Hacienda del Corazon, contact Jenna Daley, Criss Crozier, or Andrea Gilbert. http://www.6900viadelcharro.com/
Welcome to 15,000 square feet of single story living!
The decor is a perfect compliment to the architecture. Some of the door handles are made of six-shooter pistols! The custom furniture was made in Mexico and you can buy it along with the house.
This dining room has plenty of space for your friends and family.
There are multiple entertaining spaces, a gourmet kitchen, and butler's pantry.
The home has five bedrooms and six full bathrooms.
The home features hand-painted wood beams. Some of the reclaimed wood in the saloon is from President Madison's home!
Wow! Check out the hand-hammered tin ceiling in the theater!
This looks like a resort! The home is on just under three acres.
Check out the pool and elevated spa.
This estate has a full-size motor coach garage, parking for up to six cars, a five-stall barn for your horses, and a riding arena.
The location is near 60 miles of riding trails. The property is landscaped with drought-resistant plants and the home runs off two sets of solar panels.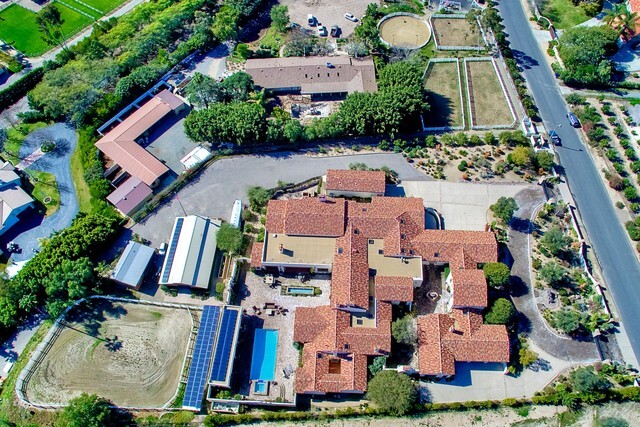 The listing price is $9,980,000.