SAN DIEGO (KGTV) — Summertime in San Diego lends itself to adventures throughout the county.
Road trip up to North County or head to the South Bay; either way, there's something cool to explore. Even better, you might happen across something not many locals know about.
Take these cool secret spots around San Diego. You don't have to do a whole lot of investigating to find them and visiting them is well worth the time.
La Jolla's secret swing
In the hills atop Scripps Pier is a tree swing with one of the best views of La Jolla and the Pacific Ocean. In the area between La Jolla Shores Dr. and Expedition Way, a handmade swing offers a unique ocean view. But be aware, sometimes the swing may not be there due to reported vandals. However, it will appear now and again for visitors.
---
Coronado's sunken ship
The SS Monte Carlo was a 300-foot casino ship, known as "Sin Ship," that crashed on Coronado's shore during a storm in 1937. What's left of the gambling vessel can be seen poking through the surf depending on conditions in front of the Coronado Shores condos.
---
Banker's Hill 100-year-old bridges
The Spruce Street Suspension Bridge was built in 1912, connecting Front St. and Brant St. over Kate Sessions Canyon. The bridge's suspension adds a gentle sway to the bridge that was built more than 100 years ago. Just a few blocks over, the 236-foot-long Quince Street Bridge connects Quince St. and Third Ave. Built in 1905, the bridge takes pedestrians 60 feet above Maple Canyon.
---
Chula Vista salt mountains
South Bay Salt Company is one of San Diego's oldest running businesses. First it started as La Punta Salt Works from 1871-1901 and then Western Salt Company from 1902-1999 before its current name. The facility floods its ponds with salt water and waits for the water to evaporate, leaving behind pure salt. Massive mountains of salt stand — hardly hidden, we know, but the factory remains a cool hidden gem to visit.
---
Escondido 1950s "hotel"
On Escondido's Utah St., a home adorned with 1950s statues and memorabilia sits. The "Heartbreak Hotel" is the culmination of Andre Villa's love of collecting, 50s memorabilia, and icons of the past. Outside the home, countless collectibles. Inside, a trove of cool knick-knacks and antiques from decades ago. Ask nicely and he may give you a tour.
---
Solana Beach canyon trail
This trail isn't for the claustrophobic. Annie's Canyon Trail takes hikers through delicate and cramped sandstone canyons in the San Elijo Lagoon Ecological Reserve. Start at the trailhead at the end of N. Rios Ave. and follow the trail about half a mile to get to the canyons. The short trek boasts wonderful lagoon views after slinking through the canyon.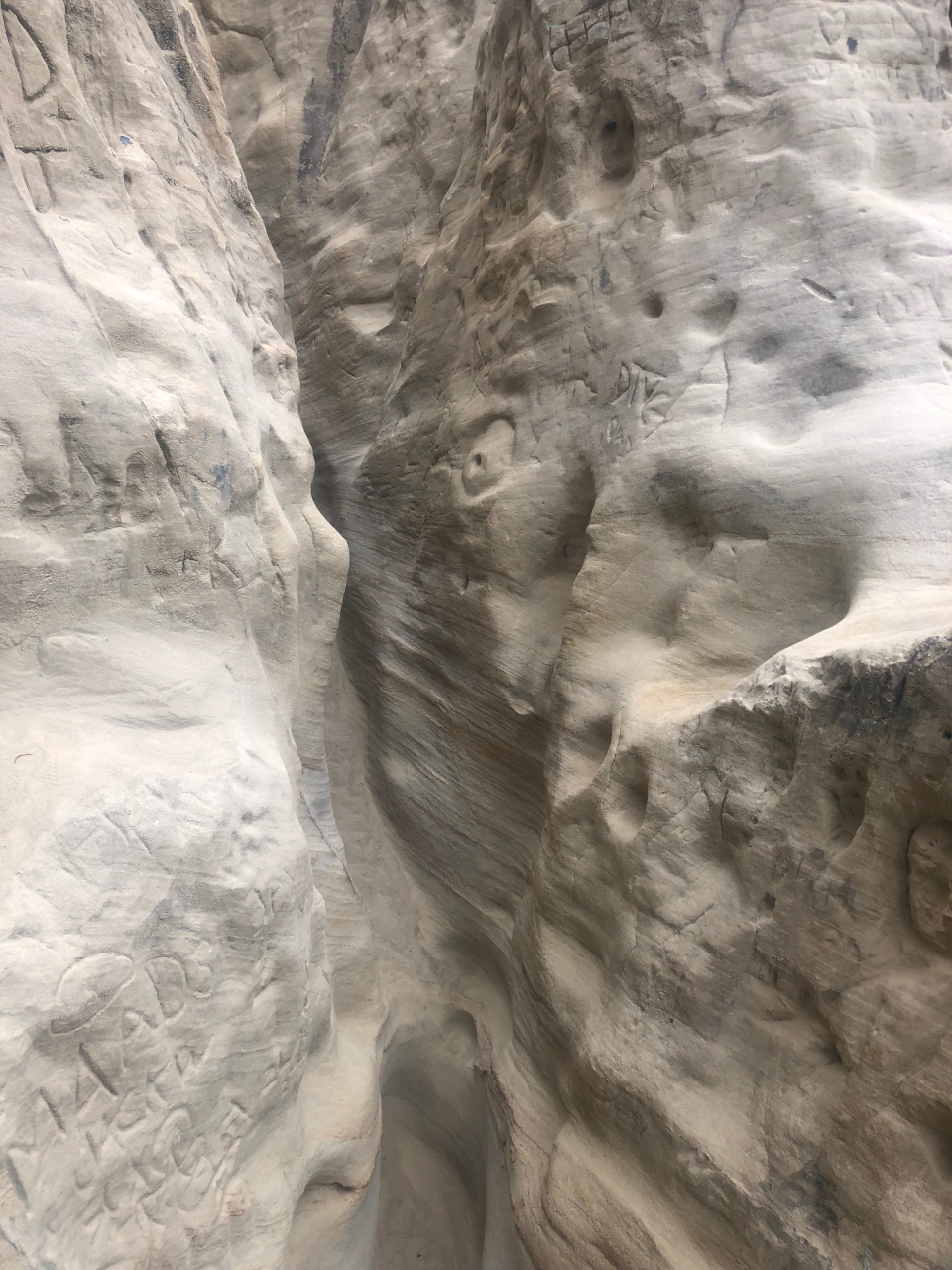 ---
Pioneer presence in Mission Hills
This park isn't hidden, but its past is below ground. Mission Hills Park, also known as Pioneer Park, was once known by another name: the Calvary Cemetery. The cemetery was a 19th-century Catholic burial ground and one of San Diego's first cemeteries. That is until the 1970s, when the city converted the plot into a park. Tombstones and graves of San Diego pioneers remain at the park.