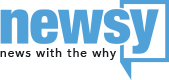 10news.com
National News Partner
SpaceX Plans To Bring High-Speed Internet To Billions
The primary mission of SpaceX's latest Falcon 9 rocket launch is to deliver a defense and security satellite for Spain's government into low-Earth orbit. But also on board this rocket are two of SpaceX's internet-delivery test satellites, nicknamed "Tintin A" and "Tintin B."
According to filings with the Federal Communications Commission, the satellites will test technology for what one day may be the largest global broadband network in history. The company's CEO, Elon Musk, tweeted that if successful, the 10,000 satellite network will serve the least served. It would also bring high-speed internet to billions of people.
The chairman of the FCC, Ajit Pai, supports SpaceX's satellite project and said if approved, it would be the first American-based company to try to provide internet service in this unique way.
Some information for this story provided by CNN.
---
Trending stories at Newsy.com