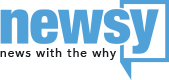 10news.com
National News Partner
Climate Change Could Make The Rice You're Eating Less Nutritious
From your sushi to your burrito bowl, the rice you're eating could get less nutritious as time goes on. A study out this month shows rising carbon dioxide levels reduce the amount of several nutrients found in rice, the primary source of food for more than 2 billion people worldwide.
"Climate change will bring about very profound changes in the food supply," says Dr. Adam Drewnowski, epidemiology professor and director of Center for Public Health Nutrition at the University of Washington.
Dr. Irakli Loladze, a mathematician and climate change nutritional expert at Bryan College of Health Sciences, says, "It's not just rice, it's not just iron or zinc, but the majority of essential elements drop in the majority of plants."
The issue is carbon dioxide. Plants use CO2 to make sugars, which fuel their growth. Loladze — who has been studying the effect of carbon on plants since the '90s — found the more CO2 plants encounter, the more sugars they make and the fewer nutrients.
SEE MORE: Why Our Food Has Fewer Nutrients Than Ever Before
The researchers studied octagon-shaped plots among fields growing 18 common strains of rice in China and Japan. They pumped extra CO2 into the flood-irrigated rice paddies and analyzed the grains over four different harvests from 2010 to 2014. The findings were troublesome.
"We found that nitrogen or protein declined significantly. We also found that iron and zinc declined. Vitamins, and the whole group of this B vitamins — B1, B2, B5, B9 — they all drop, and drop significantly," Loladze says.
Vitamins B1, 2, and 5 help our bodies convert food into energy — aiding in everything from nerve function to healthy hair and muscles. B9 — folic acid — is vital during pregnancy.
The researchers say these nutrition changes could be devastating, especially in poorer countries in Southeast Asia, like Myanmar, Cambodia or Laos. For some there, rice makes up as much as 70 percent of their daily calories.
SEE MORE: Climate, Markets And Mouths: The Problems With Food Supplies
Americans should be concerned, too. We consume some 27 pounds of enriched white and brown rice per person per year. And Loladze says it's not just rice. Other grains process carbon the same way.
"They share the same basic plant physiology. [It] responds to CO2 in a similar way to wheat, and barley, or even potatoes."
---
Trending stories at Newsy.com